How does Diet Catering work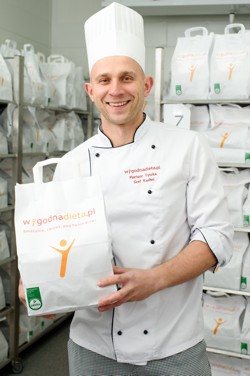 WygodnaDieta.pl provides tasty, healthy and nutritional meals directly to your door. Each day diet is a five balanced meals composed by professional dieticians. Dishes are prepared by experienced chefs with fresh ingredients of the highest quality. Diet menus are provided with refrigerated transport directly to you at the appointed time.
Choose diet
You choose one of the offered low-calorie diets: 1000, 1200, 1500, 2000 kcal in the standard version or vegetarian. You can also choose one of the specialized diets: Montignac, for Diabetic or Antycellullitową. Check sample menu.

Remember! You can always call our dietician and give us goals you want to achieve, your preferences, your habits and lifestyle, so that we can also advise you on your proper, balanced and varied diet. Professional nutritionists are at your disposal.
You order meals
Fill in order form or place an order by phone. Consultants agree with you details of the order, delivery and payment method. After defining the details you will receive an e-mail confirming the order. After placing your order you make payments by bank transfer. There is also the option of paying by cash on the first day of delivery.
We deliver
Kitchen holds a valid certificate of HACCP engaged in the preparation of meals to your order. Meals are prepared by professional chefs under the guidance of an experienced chef. For the preparation of dishes we use fresh ingredients delivered by reliable suppliers. Tight packing your dishes provide a modern, technologically advanced packaging equipment. This ensures that we are preparing the best quality products. Food safety is our priority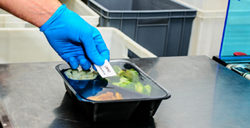 Execution of the contract begins in accordance with the order confirmation sent by e-mail. Depending on the delivery system available in your city we deliver every morning or every other day dietary supply kit consisting of five meals: breakfast, second breakfast, lunch, afternoon tea and dinner. Diet Kits are delivered to you by a dedicated refrigerated transport courier. On the free delivery check the delivery area and the possibilities. Delivered meals are ready to eat immediately, or after heating. Sealed package in which it is packaged meals can be heated in the microwave after removing the top layer of the film.

You eat only delivered meals, do not you snack, you're following our advice and ..
You lose weight
Drop the excess weight while eating delicious, convenient and healthy. You get more free time without cooking and shopping. Health and well-being on a daily basis goes hand in hand with a proper diet. The only thing you need it in addition is water or tea (preferably green).
See how tasty can be slimming with WygodnaDieta.pl
Catering WygodnaDieta.pl diet will not only lose the excess weight, often with success is the basis for a healthy and balanced daily diet.