Price list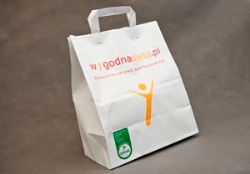 Each set consists of five meals: breakfast, second breakfast, lunch, afternoon snack and dinner. Price includes delivery if your address is in the free area of supply. Diet can be ordered for 5 or 7 days a week. Orders may begin on any day of the week, you can decide whether you order for a week, month or quarter. Due to the achieved results, we recommend including weekends to a contract. You can always postpone or suspend future deliveries, it's important that we have received in time such information.

Deliveries may be made by the two systems, depending on the availability of the supply system in your city:
- daily delivery on weekdays and on Saturday for the weekend
- delivery every other day
Details of delivery systems available in each city check in the section free delivery or call and ask a consultant.
| Type of diet | weekly order | monthly order | order quarterly |
| --- | --- | --- | --- |
| 1000 calorie | 49,9 pln | 46,9 pln | 44,9 pln |
| 1200 calorie | 51,9 pln | 48,9 pln | 46,9 pln |
| 1500 calorie | 53,9 pln | 50,9 pln | 48,9 pln |
| 2000 calorie | 59 pln | 56 pln | 53,9 pln |
| Specialized diet | 59 pln | 56 pln | 53,9 pln |
Prices in the above table applies also to veretarian diets: 1000-calorie, 1200-calorie, 1500-calorie and 2000-calorie. Above pires are unit prices for one day delivery.
Specialized diets: Montignac, Diabetic, Anti-cellulite.
To order fill in this form.
Recommend us to your friends and benefit from it!
You will get a 5-zloty discount per day for as long as your friend's first order lasts. Your friend just need to mention your name while ordering.
Invite more friends, and your discount will increase!
Form of payment: subscription
transfer or cash (with our courier or office)
Volkswagen Bank
34 2130 0004 2001 0423 9034 0001

WygodnaDieta.pl
ul. Baletowa 29d,
02-867 Warszawa