Thermal bag and cutlery – Wygodnadieta.pl
Diet catering is the perfect solution for everyone who does not want to spend too much time shopping and preparing meals. We decided to make it even more convenient for you! We have carrefully designed a comfortable thermal bag and practical cutlery in a case. Check why you should choose our accessories.
Thermal bag – Wygodnadieta.pl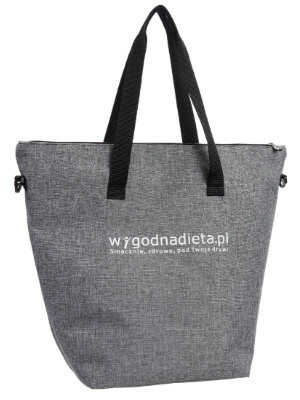 Thermal bag for dietary catering:
maintains the temperature of meals;
equipped with comfortable short ears and a long strap;
has a convenient pocket for small items;
waterproof and easy to clean;
lined inside with a heat-insulating foil;
fastened with a zipper;
it is suitable for one-day dietary catering with;
dimensions – bottom: 26.5 x 16.5 cm, height: 40.5 cm, width at the widest point: 47 cm, width at the narrowest point: 26.5 cm.
Cutlery set in a case – Wygodnadieta.pl
Cutlery set:
stainless steel;
silver-maroon color;
practical and convenient;
dishwasher safe;
cutlery dimensions: knife - 22.5 cm, fork - 20 cm, spoon - 20.5 cm.
Case:
universal gray color;
easy-to-clean fabric;
fastened with a zipper;
fits a whole set of cutlery;
hygienic and handy;
dimensions: 24x7x2 cm.
Our WygodnaDieta.pl accessories are stylish and make the use of the dietary catering even more enjoyable. We offer a comfortable, roomy, practical thermal bag, that will be perfect for delivering meals. The bag will accommodate your dietary catering, but also other items such as cutlery, keys or a smartphone. Order the accessories while ordering the dietary catering Wygodnadieta.pl and we will deliver it on the first day of the diet. Each evening, leave your bag in the agreed place for our courier to place package in it. Your meals will maintain the perfect temperature from delivery to collection.
Cutlery Wygodnadieta.pl is a gadget that you can take with you – an easy and hygienic way to eat your meals outside the home! It fits perfectly in our thermal bag. Thanks to the stainless steel cutlery, you no longer have to eat with a plastic spoon, knife or fork. Our set in case is the perfect solution for everyone who values an ecological lifestyle!
Accessories can be purchased when placing an order via the website Wygodnadieta.pl or by phone. If you are customer of our box diet and want to buy a thermal bag or a pair of cutlery Wygodnadieta.pl, please contact our customer service – (22) 730 00 69. We will deliver accessories along with your diet. The cost of a thermal bag is 79 PLN, cutlery 29 PLN.