Diet Catering Poznań and surrounding areas
Free delivery zone - (61) 415 10 50
We offer you daily diet delivery straight to your door. Our suppliers work in the morning from Monday to Saturday. On Saturday you get a set meal on both Saturday and Sunday. With our company you can also count on flexible delivery times that will meet your requirements.

When you find that you do not live in a zone where we offer free delivery, please contact us. In this case, we will determine the possibility of delivering your order individually.
Order a home delivery diet!
Order Now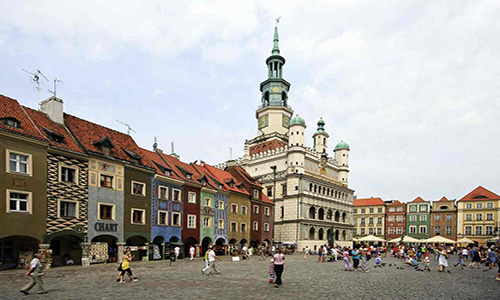 Which dietary catering to choose in Poznan?
Wygodna dieta is a dietary catering number one in Poznan. Meals which are prepared by our chefs have not only a perfect taste, but also are rich in vitamins, minerals, fibre and other essential nutrients. Menu is created by professional dietitians in cooperation with experienced head chef. Our meals are well-balanced and low in calories. Our customers can choose from 15 type of diets in calories from 1000 kcal to 4000 kcal. A wide range of diets allow to adjust diet to different groups of customers. Among them are people who want to lose weigh, gain weight, improve their health and wellbeing as well as plan to eat regularly.
Constant care of professional dietitian
Ordering our dietary catering you will be under constant care of professional dietitian. Our expert will help you to fit proper type and caloric of diet as well as he will track your progress. You can contact with nutrition everyday in order to get advice and work out the details of your order. Wygodna dieta has its own expert team. Our proffesionals shall ensure that our customers are provided with care everyday.
Box diet with work delivery in Poznan
Dietary catering is a big facilitation for people who are busy and do not have time for cooking. We deliver 4 or 5 ready to eat meals strait to indicated address, so that you will eat healthy and regularly. Set of dishes are delivered in refrigerated transport thus you can be sure that meals will be fresh.
Dietary catering with HACCP certificate in Poznan
Our meals are made from the highest quality ingredients. The best evidence of this is our HACCP certificate. Our food safety certification system HACCP is ensured by external auditor Dekra Certification Sp. z o.o. Our customers can be sure that our dishes are completely safe. The ingredients of dishes are prepared in many specialised room. In our kitchen we only work with modern equipment which has relevant conformity mark. Furthermore, due to the modern, technologically advanced packaging machines we can guarantee the freshness and hygiene of our meals.
Service areas - Poznan and surroundings
Among districts where we deliver our diet are: Stare Miasto, Grunwald, Jeżyce, Ławicę, Górczyn, Świerczewo, Wildę, Rataje, Franowo, Szczepankowo, Starołękę, Krzesiny, Antoninek, Winogrady, Piątkowo, Naramowice and Podolany.
Perfect dietary catering? This ideally suited to you. Choose box diet which is perfect for you.
Call now and order your diet catering:

61 415 10 50