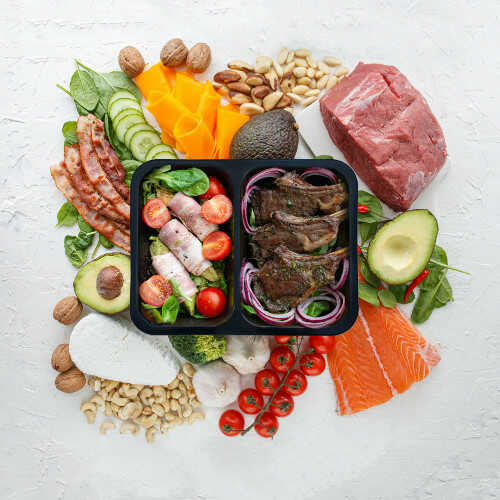 Ketogenic diet
1000, 1200, 1500, 1800, 2000, 2200, 2500, 3000, 3500, 4000 kcal
Order diet
Diet aimed at people who want to lose weight quickly, reduce appetite or stop sugar cravings . Due to the unusual composition of the menu it may be suitable for people looking for new taste sensations. A cyclical ketogenic diet may be used also to support physical performance and during strength trainings.
Ketogenic diet involves significant limitation of carbohydrates intake and replacing it with fat. Meals are based on various types of meat, eggs, fish, oils, seeds and nuts. Major sources of carbohydrate such as cereals, legumes, and most fruits are excluded. Due to the high content of fats, portions of meals are smaller in volume, but they provide a feeling of fullness and eliminate the urge to eat.
Before starting a ketogenic diet, we recommend a medical consultation and basic diagnostic tests. This way of eating is not recommended for people with pancreatic, liver, kidney and gallbladder diseases, or selected gastrointestinal disorders.