Diet Catering Silesia and surrounding areas -

Free delivery zone - (32) 445 05 04
5 diet meals delivered for each day
diet composed by qualified nutritionists
modern packaging system which guarantees the freshness
packaging adapted for heating in the microwave
tasty dishes prepared by a professional team of chefs
food safety provided by HACCP system
flexibility to decide which days you want to receive meals
access to our nutritionists
convenient delivery straight to your door
We offer you daily diet delivery straight to your door. Our suppliers work in the morning from Monday to Saturday. On Saturday you get a set meal on both Saturday and Sunday. With our company you can also count on flexible delivery times that will meet your requirements.
When you find that you do not live in a zone where we offer free delivery, please contact us. In this case, we will determine the possibility of delivering your order individually.
Order a home delivery diet!
Order Now
If you decide on our service, you will get:
- Properly balanced diet - professional dietitians are responsible for creating menu, so that our customer can be sure that our diet will fulfill their expectations.
- Appetizing meals - dishes are prepared only by professional chefs who do their best in order to make the meals perfect in any consideration. For them count not only the taste and amounts of calories but also the appearance and quality of meals.
- Comfy delivery - 4-5 dietitian meals will deliver to our customer every morning. On Saturday you get a set meal on both Saturday and Sunday.
- Safe and modern packages - our modern packaging system guarantees the freshness. Thanks to our packaging you will heat up the meal in easy and simple way.
- Constant contact with dietitians - our specialists are at your disposal. If you call them, they will give you necessary advice and dispel the doubts.
- Meals from professional kitchen - we prepare our dietary catering in professional kitchen that has certified food safety management system HACCP.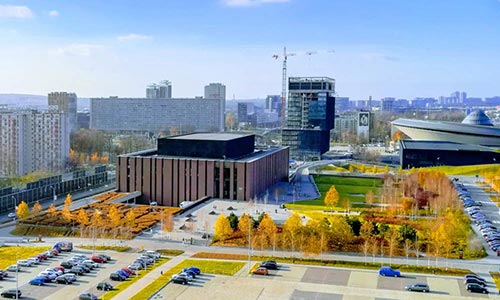 Diet catering - Silesia
Diet with home delivery is a perfect solution for citizens of Silesian Agglomeration who want to slim down, safe time as well as improve their mood and health. We prepare our meals from fresh products delivered by reliable suppliers, so that our customers get the highest quality diet meal kits. meals are inspired by tastes from all over the world. We serve Mediterranean, Indian, China, Arabic and Asian cuisines. Our meals are delivered in refrigerated transport.
You can order Wygodnadieta.pl dietary catering in many cities in Silesian Voivodeship. Among them are for example: Katowice, Tychy, Mysłowice, Dąbrowa Górnicza, Sosnowiec, Siemanowice Śląskie, Bytom, Piekary Śląskie, Zabrze, Gliwice, Ruda Śląska i Mikołów.
Diet made by professionals
Our meals are prepared by professional chefs and the whole process of diet production is coordinated by experienced head chef. He creates a menu in cooperation with dietitians. Wygodna dieta is a company created by professionals. We do not use service of outsourced nutritionists because we have our own experts team. All our consultants are dietitians that is why our customers can be sure that they are taken into the care of professionals.
Diet catering with HACCP certificate in Silesian Aglomeration
Wygodna dieta is a diet catering with HACCP certificate that prove the highest quality of our dishes. We certified food safety certification system HACCP and it is ensured by external auditor Dekra Certification Sp. z o.o.
Perfect dietary catering? This ideally suited to you. Choose box diet which is perfect for you.
Call now and order your diet catering:

32 445 05 04