Diet Catering Wrocław and surrounding areas
Free delivery zone - (71) 700 01 77
Diet deliver are on Weekdays. On Saturday we deliver on Saturday and Sunday.

When you find that you do not live in a zone where we offer free delivery, please contact us. In this case, we will determine the possibility of delivering your order individually.
Order a home delivery diet!
Order Now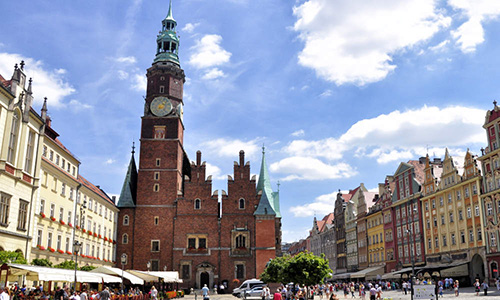 Dietary catering in Wroclaw
Do you dream about receiving set of prepared meals for the entire day every day? With us it possible. We specialize in delivering 5 dishes straight to your door. Thanks to us you can be sure that meals will supply your body in all essential nutrients, vitamins and minerals which are necessary for the proper functioning of the body. In our offer we have 15 types of diet, so that we are able to match diet to your preferences and needs.
Diet sets are delivered not only in Wroclaw but also in its suburbs. In our free delivery zone are cities like: Legnica and Walbrzych.
Professional dietitians
In Wygodnadieta dietary catering you are under the constant care of professional dietitian who advice you at the beginning which diet and calories you should choose. During an order duration you can always turn to specialist in order to get free diet consultation. Furthermore, nutritionist keep you informed about your food program.
No preservatives diet
In our kitchen we cook with a passion. You will find it out with first mouthful of food. In our offer you will find dishes from the farthest corners of the world. We serve Indian, China, Arabic, Asian and European cuisines. Each meal is ich in vitamins, minerals, fibre, and other essential nutrients. There are no harmful preservatives as well as artificial flavorings and colours.
We believe that diet does not have to mean self-denial. That is why we introduced a new concept of desserts with no added sugar which are natural, low in calories and well-balanced.
Diet with HACCP certificate
Wygodna dieta has current HACCP certificate that prove the highest quality of our dishes. Our food safety certification system HACCP is ensured by external auditor Dekra Certification Sp. z o.o. In our kitchen we mantain the higest level of hygiene. We check the freshness and quality of products which are delivered everyday to our company. We demand from our suppliers documents on origing of the products.
Service areas - Wroclaw and surroundings
Among districts where we deliver our diet are: Bartoszowice, Bierdzany, Biskupin, Borek, Brochów, Dębie, Fabryczna, Gaj, Gądów Mały, Grabiszyn, Karłowice, Klecina, Kleczków, Kłokoczyce, Kowale, Kozanów, Krzyki, Księże Małe, Księże Wielkie, Kuźniki, Maślice, Muchobór Mały, Muchobór, Nadorze, Nowy Dwór, Ołbin, Ołtaszyn, Oporów, Osobowice, Patrynice, Pilczyce, Polanowice, Popowice, Poświętne, Przedmieście Oławskie, Psie Pole, Rakowiec, Różanka, Sępolno, Sołtysowice, Stabłowice, Strachocin, Swojczyce, Szczepin, Śródmieście, Świątniki, Tarnoga, Wojszyce, Zacisze, Zalesie, Zgorzelisko, Złotniki, Żerniki.
Perfect dietary catering? This ideally suited to you. Choose box diet which is perfect for you.
Call now and order your diet catering:

71 700 01 77