HACCP
food safety
The safety of produced food is our priority. We are aware that our costumers expect not only delicious and balanced meals, but also the highest quality and freshness. To meet these expectations and in the interest of highest quality of our meals we have implemented and certified food safety management system HACCP.
The adequate food system managemnt HACCP in WygodnaDieta.pl is ensured by external auditor Dekra Certification Sp. z o.o.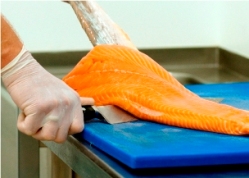 Why do our customers feel safe?
To ensure the highest level of food safety we have designed unique system of food safety managemnt in our company. The system includes regulations and procedures to ensure safe diet production.

At early stage of building our company we have taken into account aspects of food safety, which allowed us to have specialised zones for storaging, pretreatment, raw material treatment, thermal processinng and food packaging. The food indigredients are prepared in specialised room, which allows avoiding cross-infection (it allows to separate row products from already cooked products).

We only work with modern equipment which has relevant conformity mark guarantiing safe contact with food. It allows to mantain the higest level of hygiene, and thus safety. Among others, we use special marking for utensils, and do not allow using wooden equipment, which is not hygenic enough.

Operating system is subjected to rigorous control by our designated check points and critical points. We check the freshness and quality of products and we monitor the path of each product in the production process till it becomes a ready meal. The aim of the system is to eliminate any physical, chemical, and microbiological risks, which might be related to processed food. In the key places we have designated the criticla check points, to check for example the temperature of meat during thermal processing. That guarantees that all the meats are well cooked and all microbes eliminated.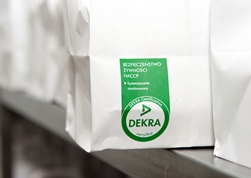 As important as food heat treatment is appropriate rapid cooling of raw materials in a specially designed cold. Food cooling to below 3 degrees Celsius stop the growth of microorganisms which has an extremely large impact on the freshness of served dishes. The purpose of our dishes are packed with high-tech welding equipment, which further isolates the dishes from the external environment ensuring a longer freshness without resorting to artificial preservatives.

The everyday delivery system is an extremly important element of our system. We are able to receive fresh supplies every day, which minimalise food storaging and guarantess freshness of prepared meals. When receiving the products, we carefully check their condition, temperaure, shelf life and we demand from our suppliers documents on origing of the products.
Another important aspect in our system is staff training. Our chefs team is reguraly trained on HACCP regulations, which are in force in our company. We pay very close attention to staff behaviour responsible for preparing meals (including high personal hygiene, wearing gloves, suitable work cloths, and more importantly the awareness of the food production regulations). We provide training, HACCP, GHP and GMP under the initial and annual basis. Retraining our internal auditors using external companies.

All our staff are aware of potential risks when processing food, for example processing of row poultry or eggs. Thanks to that awareness and operating HACCP system our clients can be sure that they will receive properly prepared, delicious and safe meals.
Below there is our HACCP certificate.