Ecology in dietetic catering
If you are wondering whether using our dietetic catering is ecological, you should read following text. Verify how do we care about our planet day-to-day.
Why using dietetic catering is ecological?
It might seem that using dietetic catering is against the ecological lifestyle. Meanwhile it is a very different story!
You don't waste food
We prepare our dishes in the way that allow us not to waste food. We accomplish that by taking orders at least one day beforehand in order to plan delivery of fresh products. Thanks to that we can purchase as much products as we really need and therefore we don't waste food.
On the other hand, you don't throw away excess of the food. While having the diet for the whole day, you don't need to worry about shopping or expiration date of the products in your fridge. And as a result – you don't throw away food. You think you don't waste so much of it, don't you? Unfortunately according to the data from 2018 an average Polish wastes 235 kg of food a year!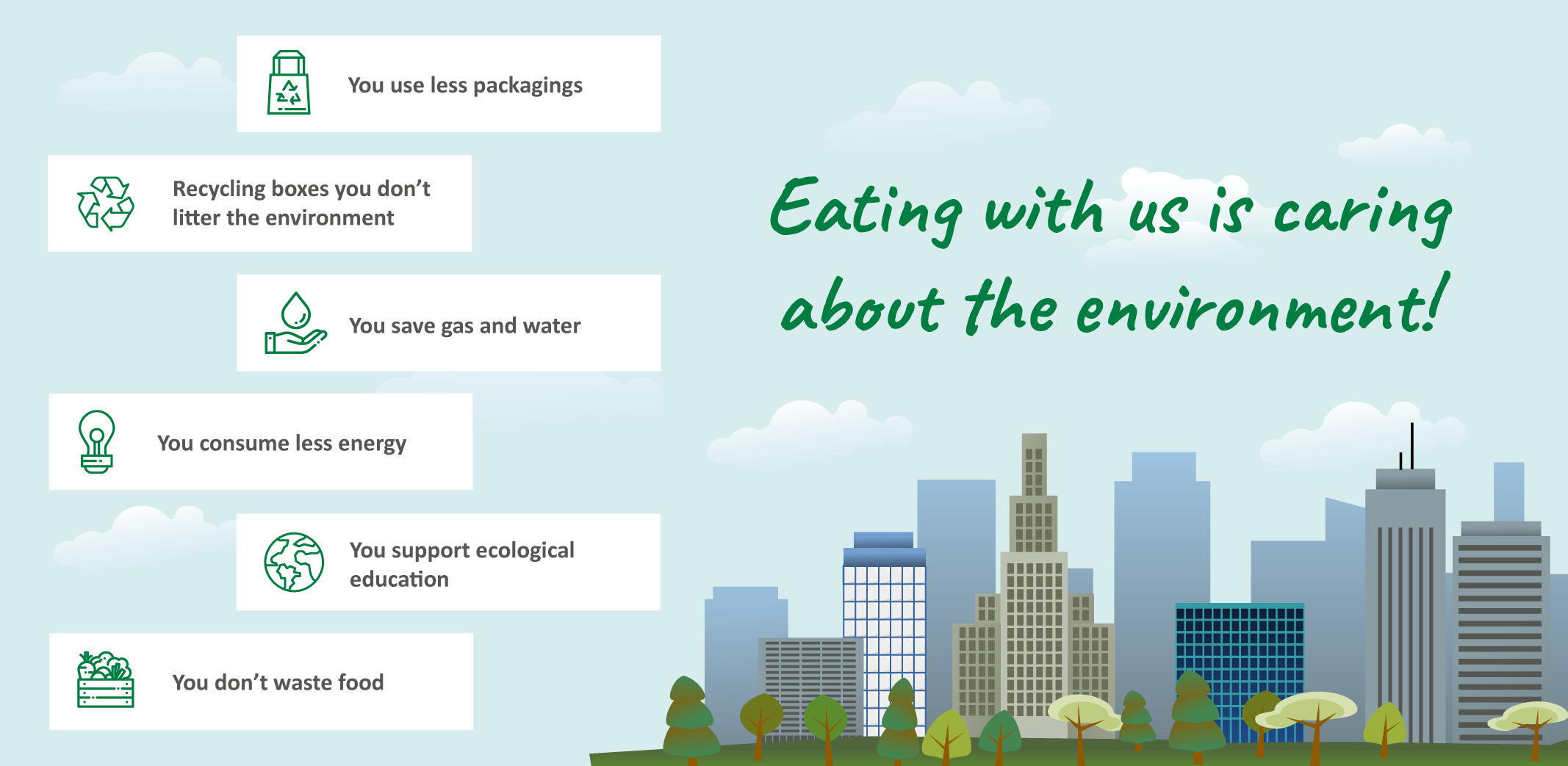 Bigger packaging = less rubbish
We order products in big packagings, what makes us produce way less waste than while buying food in smaller containers. Among the others it is a reason that by using our services, you support the less waste movement.
Packaging – trays and bags in dietetic catering
We use materials that can be recycle
We spacialise in providing five-meals' sets every day. All meals are airtight closed in packaging made of high quality material – polipropylene (PP). It means that our packagings can be recycled and it is fully safed to use them.
Trays, thrown away to the proper bin, will be reused. Thanks to that we can contribute to reduction of the plastic amount in our environment!
Our bags are conscious choice. We bet on environmentally friendly packages that perfectly fulfill their function. Remember to throw them away to the proper bin after usage – to paper. It is a little effort that contributes to the environmental protection!
Biodegradable cutlery is our next step. Thanks to these activities amount of plastic in our dietetic catering will be significantly reduced. Follow our website and social media in order to stay up-to-date with the changes that we are bringing on in our company!
Waste recovery in dietetic catering
We know how important is recycling, therefore we make every effort in order to achieve the efficiency in our activity. We cooperate with packaging recovery organization, because of that we are capable to recovery used paper and plastic.
Diet Catering - Ecological Packagings
You often ask us about biodegradable packagings. After many tests and trials we found the best solution. Finding biodegradable packagings is not an easy task. It must comply a number of stringent requirements. First of all, trays must be adapted accordingly to contact with food. We also cared about flexible solution, which will fulfil the highest safety standards in 100%. After a long time, we can offer safety, hygienic and comfortable environmentally friendly packagings. In this way we eliminated 97% of plastic in our sets. All of our diet you can order in bio packagings. However, we don't resign from the previous trays that can be recycled. This way you can choose the best solution for you.
Our biodegradable packagings consists from plant pulp and is protected by a thin layer of PP - a recyclable plastic. What is important, during disposing of polypropylene, large amounts of energy are released, and at the same time much less CO2 than other raw materials. Ecologic packagings you can throw to bio- waste after removing protective foil. Foil should be placed in plastic waste container.
Ecoarchitecture
Modern building and equipment = lower energy consumption
We focused on ecoarchitecture. The buildig where we prepare our diets was designed in the way that allow to consume the energy as little as possible. We optimised refrigeration system in the way that make us capable to recover heat from it. Afterwards it is used for warming up the water. Modern appliances (ovens and electronically controlled refrigeration) enable us to save significant amount of electrical energy, water and gas.
Optimised supply chain
Well planned supply routes = less exhaust fumes
We do our utmost in order to reduce CO2 emission. That is why our drivers use optimised routes. Diets' delivery takes place in the early mornings hours. Why? To avoid traffic jams that are the cause of increased CO2 emmission.
We promote environmental education
We know how important is the environmental awareness. That is why we not only follow the principles that lead us to improve the environment but also we promote environmental education. We subsidise educational campaigns about the environmental protection. In the scope of these activities we:
co-organize educational actions and contests encouraging to separation of waste, i.a. in schools, kindergardens, carnivals and picnics,
support organising of workshops for pupils and workers,
co-finance educational materials for schools, kindergardens and other institutions,
co-create folders, brochures, posters and videos of an educational character.
Using our dietbox and separating waste you can have a clear conscience. Thanks to you we can recover the waste, promote environmental education and reduce emission of harmful CO2. Place an order for dietetic catering in a company, that cares about the environment!