Diet Catering Gdańsk and surrounding areas
Free delivery zone - (58) 500 88 87
We offer you daily diet delivery straight to your door. Our suppliers work in the morning from Monday to Saturday. On Saturday you get a set meal on both Saturday and Sunday. With our company you can also count on flexible delivery times that will meet your requirements.

When you find that you do not live in a zone where we offer free delivery, please contact us. In this case, we will determine the possibility of delivering your order individually.
Order a home delivery diet!
Order Now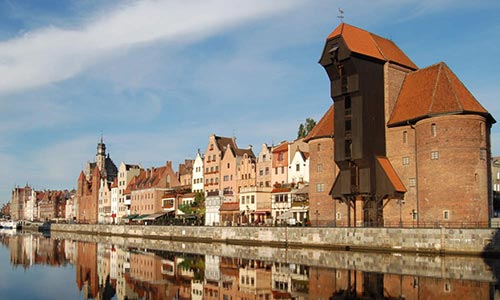 Which type of dietary catering should you choose?
The type od diet as well as its calories is important. Remember that our dietitians are at your disposal and they will help you to calculate your caloric intake and type of diet.
Calorie selection is based on several criteria: weight, hight, gender, physical activity level and purpose of diet (slimming, weight increase, weight maintenance, healthy eating habits). After determining the right number of calories we can skip to choosing the type of diet. Here the preferences, medical condition as well as food intolerances are taken into consideration. In our offer we have low-calories diet without restrictions, vegetarian, vegetarian with fish, lactose-free, gluten-free, dairy-free, diabetic and much more types of diet. All of our types of diet and their sample menus you can find here.
We are flexible!
In every moment you can change a type of diet, its calories and choose a different delivery address. You only need to inform us about it until 10:00 o'clock in working day predating the day of delivery.
We invite you to contact our dietitians: (58) 500 88 87 who will help you to choose a type and calories of diet as well as they will inform you about actuall discounts.
You can order our dietary catering in Tricity by online shop: click here as well as by phone: (58) 500 88 87
If you want to order our diet in Gdansk, Gdynia and Sopot for the next day, please remember to place an order until 10:00 o'clock.
Service areas - Tricity and surroundings
Among districts where we deliver our diet are: Gdansk: Aniołki, Bretowo, Brzeźno, Chełm, Jasień, Kokoszki, Letnica, Matarnia, Młyniska, Nowy Port, Oliwa, Olszynka, Orunia, Orunia Górna, Osowa, Piecki – Migowo, Przeróbka, Przymorze Małe, Przymorze Wielkie, rudniki, Siedlce, Stogi, Strzyża, Suchanino, Śródmieście, Ujeścisko – Łostowice, 7 dwór, Wrzeszcz Dolny, Wrzeszcz Górny, Wzgórze Mickiewicza, Zaspa – Młyniec, Zaspa – Rozstaje, Żabianka - Wejhera - Jelitkowo – Tysiąclecia Gdynia: Chylonia, Cisowa, Działki Leśne, Grabówek, Kamienna Góra, Karwiny, Leszczynki, Mały Kack, Obłuże, Oksywie, Orłowo, Redłowo, Śródmieście, Wielki Kack, Witomino-Radiostacja, Witomino-Leśniczówka, Wzgórze św. Maksymiliana Sopot Centrum, Karlikowo, Kamienny Potok, Przylesie, Dolny Sopot Grunwaldzka, Dolny Sopot: Haffnera, Lisie Wzgórze, Zajęcze Wzgórze, Górny Sopot, Brodwino, Osiedle Mickiewicza, Świemirowo, Stawowie, Leśna Polana\Gręzowo, Centrum Południe – Kościuszki, Sopocki Las.
Perfect dietary catering? This ideally suited to you. Choose box diet which is perfect for you.
Call now and order your diet catering:

58 500 88 87