Diet Catering Lublin and surrounding areas
Free delivery zone - (22) 730 00 69
Every day providers will deliver to your door box diet, made up of five balanced meals. The special packaging will allow you to keep your food hygienically and to warm up the next day with a microwave. With modern packaging, meals will remain fresh for the required period of time. With our company you can also count on flexible delivery times that will meet your requirements.

When you find that you do not live in a zone where we offer free delivery, please contact us. In this case, we will determine the possibility of delivering your order individually.
Order a home delivery diet!
Order Now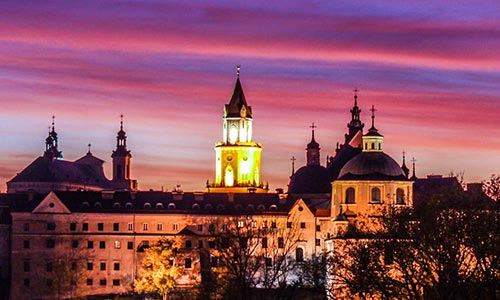 Dietary catering with home delivery in Lublin
Box diet is a perfect solution for people who want to eat healthy and regularly. Everyday we deliver 5 well-balanced and tasty meals straight to your home or office. Thanks to that you will save time, that with no sacrifice you can use for pleasure and realize your passion. You do not have to worry about grocery shopping, cooking and cleaning up.
Diet composed by the dietitians
Wygodna dieta has its own experts team. Among them are professionals dietitians, chefs and nutritionists. Menu is composed by dietitians in cooperation with head chef. Diets are prepared for people who not only want to lose their weight, but also those who feel overworked or just want to eat healthy. We also care about providing proper diet for people with food intolerances (milk protein, lactose and gluten intolerance). Each customer can count on dietitian advice, who will help to match the best type and calorific value of your diet. Nutritionist will also answer for each question that you have during an order duration.
What box diet to choose in Lublin?
In our offer we have 13 types of diets. Among them are: low-calorie diet, vegetarian diet, vegetarian with fish diet, no-fish diet. You can also choose one of the specialistic diets: gluten-free diet, lactose-free diet, anti-cellulite diet, gluten and lactose-free diet, dairy-free, gluten and dairy free diet, Montignac diet and diabetic diet.
Diet with HACCP certificate
For the sake of the highest quality and freshness of our dishes we regularly certify food safety management system HACCP. We also have external auditor Dekra Certification.
Service areas - Lublin and surroundings
Among districts where we deliver our box diet are: Abramowice, Bronowice, Czechów Południowy, Czechów Północny, Czuby Południowe, Czuby Północne, Dziesiąta, Felin, Głusk, Hajdów-Zadębie, Kalinowszczyzna, Konstantynów, Kośminek, Ponikwoda, Rury, Sławin, Sławinek, Stare Miasto, Szerokie, Śródmieście, Tatary, Węglin Południowy
Perfect dietary catering? Choose box diet which is the best for you.
Zadzwoń teraz i zamów swój catering dietetyczny:

22 730 00 69