Diet Catering Rzeszów and surrounding areas
Free delivery zone - (22) 730 00 69
We offer you daily diet delivery straight to your door. Our suppliers work in the morning from Monday to Saturday. On Saturday you get a set meal on both Saturday and Sunday. With our company you can also count on flexible delivery times that will meet your requirements.
When you find that you do not live in a zone where we offer free delivery, please contact us. In this case, we will determine the possibility of delivering your order individually.
Order a home delivery diet!
Order Now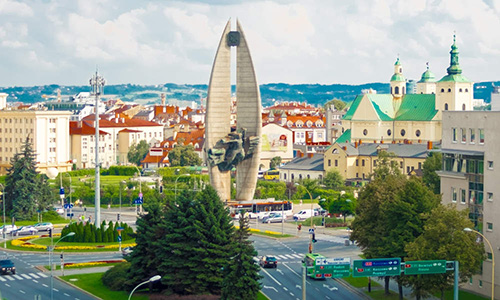 Diet with delivery - Rzeszow and its suburbs
Using our services in Rzeszow and its suburbs you receive 5 healthy, fresh and well-balanced meals in compfy morning delivery. The details of your delivery are figured out individually. You decide until what time you want to get your set of diet. You also choose if you want to pick up it personally oraz if you rather courier delivery service we will leave the set for instance at the reception.
The best dietary catering - Rzeszow
In our offer we have a dozen types of diet (low-calorie diet, vegetarian diet, diabetic diet, gluten-free diet, dairy-free diet, anti-cellulite diet, Montignac diet and more) in 10 types of calories - from 1000 kcal to 4000 kcal. Thanks to that you can benefit from menu which fit your needs. In Wygodnadieta dietary catering you are under constant care of professional dietitian who advice you at the beginning which diet and calories you should choose. Our experts can also propose you the modification of diet during the an order duration.
Flexible diet catering - Rzeszow
We realise that your plans and needs can change. That is why you can freely choose the time of delivery and modify it during an order duration. You can also change a caloric and type of diet. You only need to inform us about it until 10:00 o'clock in working day predating the day of delivery.
Service areas - Rzeszow and surroundings
Among districts where we deliver our diet are: Baranówka, Biała, Budziwój, Drabinianka, Osiedle Franciszka Kotuli, Osiedle Krakowska – Południe, Miłocin, Osiedle Nowe Miasto, Nowe Miasto, Osiedle 1000-Lecia, Osiedle Biała, Osiedle Budziwój, Osiedle Dąbrowskiego, Osiedle Drabinianka, Osiedle Generała Grota Roweckiego, Osiedle Generała Władysława Andersa, Osiedle Kmity, Osiedle Króla Stanisława Augusta, Osiedle Mieszka I, Osiedle Miłocin, Osiedle Paderewskiego, Osiedle Piastów, Osiedle Pobitno, Osiedle Przybyszówka, Osiedle Pułaskiego, Osiedle Słocina, Osiedle Staromieście, Osiedle Staroniwa, Osiedle Śródmieście, Osiedle Wilkowyja, Osiedle Wzgórza Staroniwskie, Osiedle Zalesie, Osiedle Załęże, Osiedle Zwięczyca, Pobitno, Przybyszówka, Ruska Wieś, Słocina , Staromieście, Staroniwa, Śródmieście, Wilkowyja, Zalesie, Załęże, Zwięczyca.
Perfect dietary catering? This ideally suited to you. Choose box diet which is perfect for you.
Call now and order your diet catering:

22 730 00 69